NYU Students at Home During the Pandemic
by
Camille Wilson
• Assistant Director, Visitor Relations & Special Events
June 16, 2020
The spring 2020 semester is a semester unlike any other in the history of higher education. Because of the global pandemic, in-person courses at NYU and schools across the country were suddenly moved online. And students had to adjust quickly to a new normal. As part of that adjustment, students were forced to set up shop at home.
For some students, having a designated work area was essential to their productivity. And a necessary method to manage competing work schedules with other family members. While others preferred to float around to different spaces as they would if they were on campus. In this article, we get a firsthand look at the home workspaces of our students. And hear how they've navigated living and working alongside family members.
Where Ryan does schoolwork and virtual volunteering for the Boys & Girls Club and Military One Source before gathering for family time.
"On a normal day, we spread ourselves out…but then we come together and have dinner every night. Then, after dinner, we'll play cards or watch Jeopardy! together as a family."
"I covered it in cute paper and put flowers on my desk. I just made it a space I like to be in."
Jack moved his workspace to the basement but enjoys coming up for air and quality time with family.
"It's been a good time to spend more time with my siblings. I'm learning things about them that I never knew. Even though I've been living with them my whole life."
"I make sure that I do all my work on my desk and then for performing, like for dancing and things, I'll go into the garage, because I have yoga mats and I have enough space to stretch."
Mia's designated her bedroom as her workspace to avoid disturbing other family members who are also working from home.
"My mom has a genius setup. She sits at our dining room table. And she has a red place mat and a green place mat. If there's a green place mat on her chair, we can talk to her; she's not on a call. And if it's red, we can't."
"Yeah I like trying to get my dog to hang out with me while I do homework. It's really nice to have a dog right now."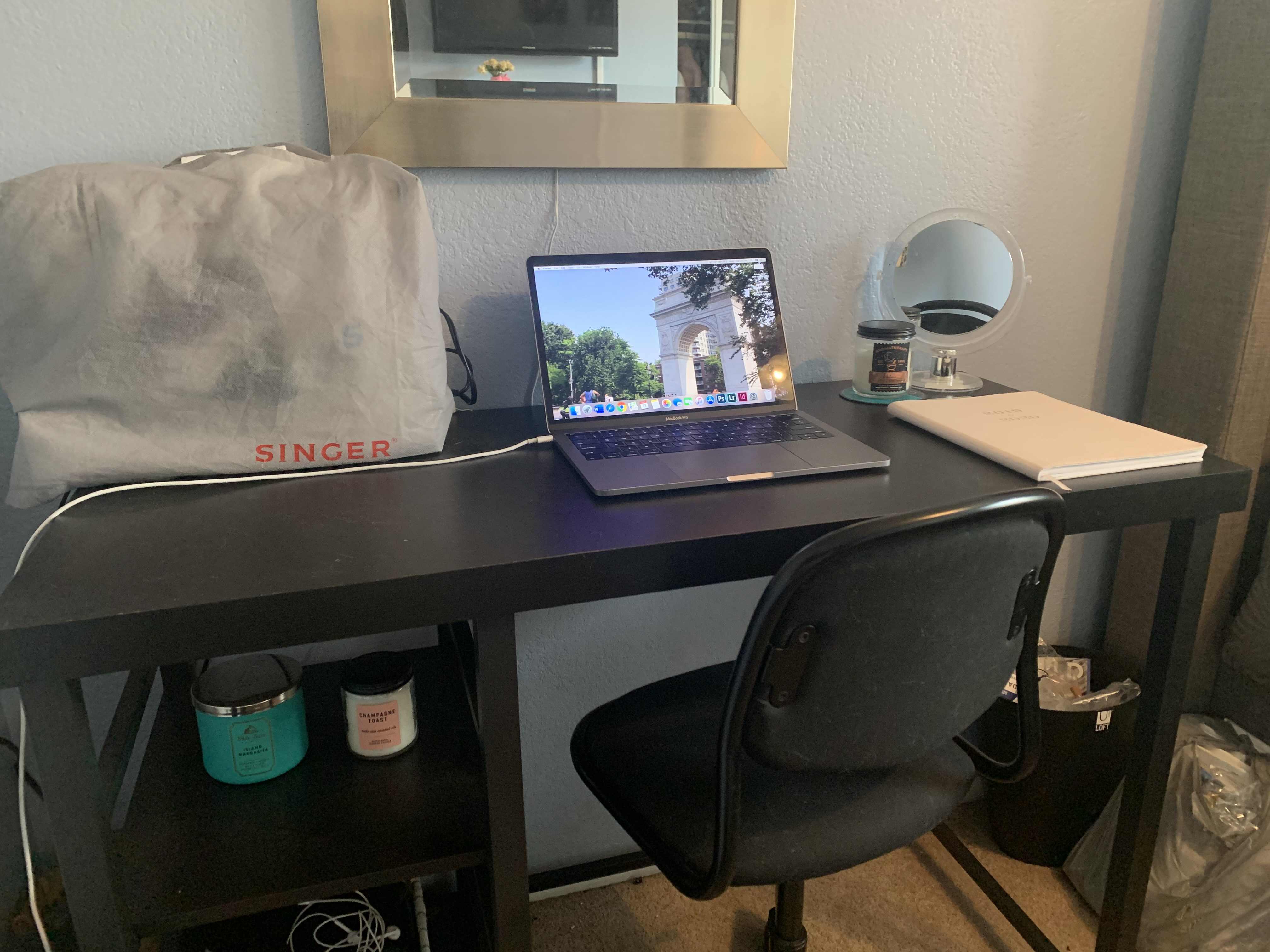 "I try to help out a little more. Because my mom is working full time…if I see her working past 4 p.m., I'll make dinner."
As you can probably guess, navigating a global pandemic as a college student is rife with unforeseen challenges. But our students have found a sense of joy at home by creating workspaces that inspire their productivity. They've also found resourceful ways to adapt to obstacles brought on by competing family schedules. But there is a silver lining here. And many would agree that it's being able to spend more time with siblings, parents, and furry friends.