Published November 13, 2023
Film Classes at NYU for Film and Non-Film Majors
NYU has a top-notch and well-renowned film department. To be sure, the unique film classes attract many applicants and visiting students. I'd like to introduce some different classes as well as how to apply and register for these classes as a film student, an NYU student in another major, or a non-NYU student.
Whether you're an aspiring filmmaker or simply curious about the cinematic arts, let's get into the captivating world of film education at NYU!
Opportunities for Non-Film Majors
The Open Arts Department at NYU Tisch School of the Arts offers the Minor in Film. And all NYU students can declare this minor, regardless of their major. The two core courses for the minor are Fundamentals of Filmmaking I and II. 
Filmmaking I introduces students to developing, producing, and editing short digital films. Working in crews of four, students work in crews of four and learn directing, shooting, and editing skills. They each get a chance to direct three short videos. First, students shoot their initial shorts in black and white without dialogue. Then, they move on to shooting in color and without dialogue.
Filmmaking II introduces students to color cinematography and aesthetics, sound recording, casting, directing, producing, and editing. Students have access to a compact lighting and mic kit for their productions. At the end of the course, students can direct and produce a short, digital video project, write a short screenplay with minimal dialogue, cast and direct actors, storyboard, light a scene, record clean dialogue, and use editing software.
Enrolling is pretty straightforward, but because the minor is popular, there is usually a waitlist. Beyond Filmmaking I and II, there are also other classes available in subjects like lighting, photography, and special effects makeup.
Behind the scenes of my final short film
In addition, non-film major students and even non-NYU students can enroll in summer film classes at Tisch. Non-film major NYU students enroll through Albert and non-NYU students complete the visiting student application. For international students the application deadline is in March. For domestic students the deadline is May for Session I and June for Session II.
In fact, I took Sight and Sound: Filmmaking during the summer. As a student who internally transferred to film, I was encouraged to take a class during the summer. That way, I'd have a basic grasp of the foundations of film before the fall semester started. 
Sight and Sound: Filmmaking's content is similar to Fundamental of Filmmaking I and II but it's just packed into one semester. As a result, the class pace is a bit faster and the content is more compact.
I met such a diverse group of classmates. There were students with PhDs, international classmates like a 35-year-old Indian film producer and undergraduate students from Hungary, the United Kingdom, and other universities around the country. Students accepted to the dual-degree program MFA in Film and MBA in Business were also in my class.
In classes there were interesting exercises like mise-en-scène where we shot everything in one take. I shot a breakup story next to the Hudson River called The Heartbreak. For the final project, each student made a five minute short film with their group mates. My final project was a short film about Asian hate and discrimination after the pandemic called 3PM. 
Behind the scenes of the mise-en-scène exercise
There are other fun film courses that you can enroll in during the summer in topics like documentary, commercial, animation, and so much more. 
In Sight and Sound: Studio, all students worked in a group of 15 and shot scenes in an actual studio on campus. Everyone rotated as director, script supervisor, camera operator, etc. Students in my group recreated scenes from The Last of Us, Stranger Things, and Twilight. And I recreated scenes from Parasite and the gender-flipped revival version of Company. 
Behind "The Last of Us" Scene
Final Project for Sight and Sound: Studio
Exercise for Sight and Sound: Studio
Each semester non-film major students can access a list of Open Access courses available. The courses offered change each semester, so make sure you reference the most recent list. You can enroll on or after the Open Access date if you have met all the prerequisites and there is room in the course you plan to take. 
Film Classes for Film Majors
Intermediate and Advanced Levels
In addition to the fundamental levels of core classes like Sight and Sound, there are also intermediate and advanced core production classes. In core production classes, each student works as their own producer, director, and writer to create short films. Intermediate short films are about eight minutes, while advanced films are about 20 minutes. NYU provides students with high-quality cameras, lighting, and sound recording equipment. Students own the films they make at NYU. So, students can submit their films to festivals! Some of the short films made by NYU students can even be acquired by big companies like Max for future production and streaming!
Besides the core production classes where students make their own films, there are also craft courses offered in different areas. For example, you can learn more specifically about animation, camera and art direction, or sound in fundamental, intermediate, and advanced levels. Check out the Tisch bulletin to learn more about the undergraduate courses offered.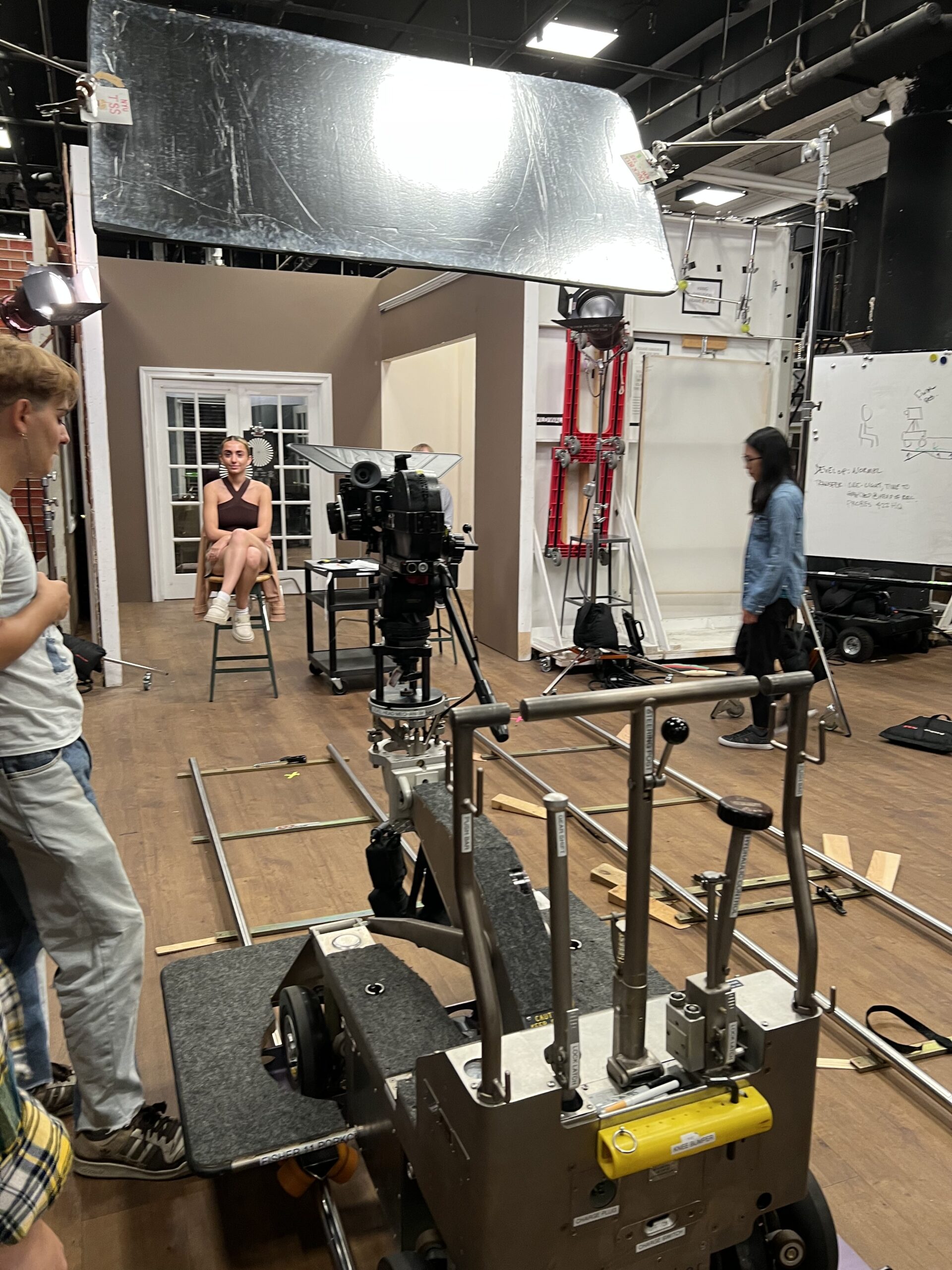 My Final Mix Project for NYU Intro to Sound Techniques
NYU's film classes are not only educational but also incredibly fun and useful for film enthusiasts and aspiring filmmakers alike. 
Whether you're a film major or come from a different background, these classes offer a wealth of practical knowledge that will undoubtedly benefit your career. From the accessible minor in Film and exciting summer courses to the comprehensive curriculum, NYU's film education is a doorway to creativity, skill development, and networking opportunities in the world of cinema. So, if you're passionate about filmmaking or simply eager to explore this captivating art form, I encourage you to take film classes at NYU. It's an enlightening and rewarding experience!