Learning to speak a language other than the one you grew up with has numerous benefits. And there is no better place to begin or continue your language learning than at NYU's campus in New York City or at one or more of our global locations in dynamic cities around the world.
Here's why.
Research has found that students who study one or more languages tend to have more developed reading abilities. They also have increased linguistic awareness and are better equipped to generate scientific hypotheses than monolingual speakers. In fact, neurologists say that people who are bilingual have more gray matter in the portion of the brain that is associated with learning vocabulary. That means when language learning occurs, that portion of the brain literally gets a workout. Like any other muscle in the body, regular "exercise" makes the brain stronger and larger. And increased size means the brain will work faster and more efficiently. What's more, experts say that learning grammatical rules will improve your memory and help you become a better decision-maker.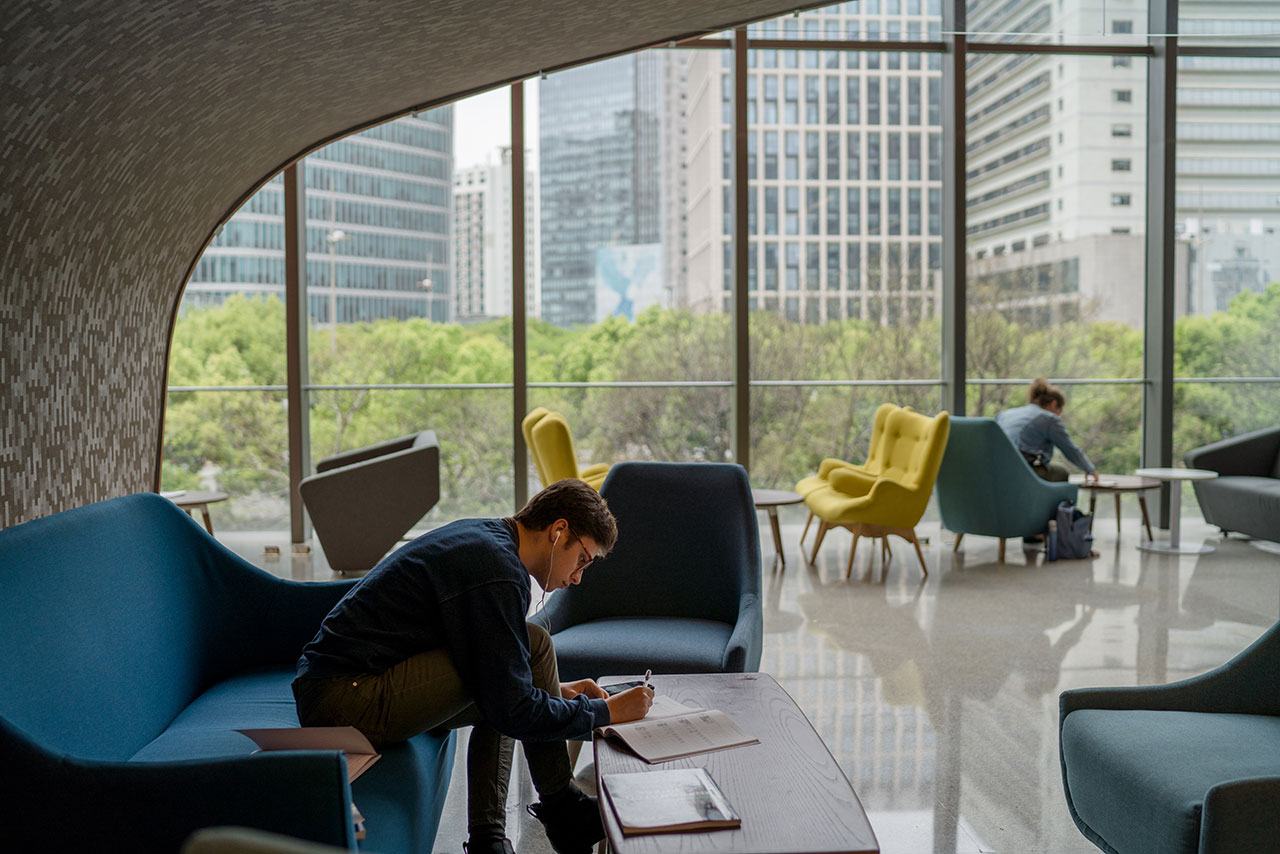 Learning a language has been shown to add 10 to 15 percent more to your take-home pay, making it a wise investment in your future. Additionally, multilingual abilities can give you an edge when you first apply for a job or seek your next promotion. When you stand next to a number of highly qualified candidates, being able to speak a second—or even a third—language may be the difference that helps you stand out. Especially in an increasingly global economy.
In fact, according to a report published by the American Council on the Teaching of Foreign Languages, employees who speak two or more languages are in high demand. See some of the report's findings below.
9 out of 10 U.S. employers rely on employees with language skills other than English
56% say their foreign language demand will increase in the next 5 years
47% state a need for language skills exclusively for the domestic market
1 in 3 language-dependent U.S. employers report a language skills gap
1 in 4 U.S. employers lost business due to a lack of language skills
In our ever more interconnected world, the ability to speak multiple languages helps you create meaningful connections more easily. Learning another language provides you with direct access to the worldviews of another culture. For example, at NYU, advanced language study includes courses in Italian opera, Japanese mass media, and modern Brazilian fiction.
You can take classes in 27 languages on our New York City campus, including Arabic, Cantonese, Hindi, Italian, and more. Classes are offered at the elementary, intermediate, and advanced levels (though not all languages are offered at the advanced level). Language classes generally have between five and 18 students, so you will benefit from more individualized attention.
Did you know? NYU teaches 10 of the U.S. Department of State's critical languages: Arabic, Chinese (Mandarin), Farsi/Persian, Hindi, Japanese, Korean, Russian, Swahili, Turkish (Modern), and Urdu.
Elementary-level classes, which are divided into elementary I and II sections, are designed to teach language fundamentals. Students learn grammar and language structure through listening, speaking, reading, and writing skills. These classes emphasize building vocabulary and language patterns to encourage use of the language in and out of the classroom. There are also intensive elementary courses in French, German, Italian, and Spanish that combine elementary I and II in one semester.
Intermediate I and II courses review grammar, language structure, and culture. They concentrate on fluency and accuracy through listening, speaking, reading, and writing activities. Intensive intermediate courses offer two semesters' worth of learning in only one semester.
Advanced-level classes are broken down into grammar and composition, conversation, techniques for translation, topics for different professions (like business and health), and creative writing.
The College of Arts and Science offers many advanced-level classes that combine classroom study and community engagement. For example, for the Spanish course Topics in Culture and Action, students work with specific organizations. The organizations seek to improve the lives of communities in need of education, asylum, or access to health services. Alternative courses promote discussions of specific issues such as migration and integration. For instance, Living in French in North America introduces students to the linguistic and cultural diversity of Francophones in Louisiana, New England, and Canada. In conjunction with NYU Alternative Breaks, students travel to these regions to conduct interviews with native speakers.
CULTURAL RESOURCES ON OUR NEW YORK CITY CAMPUS
Casa Italiana Zerilli-Marimò • Center for Latin American and Caribbean Studies • Deutsches Haus • Hagop Kevorkian Center for Near Eastern Studies • King Juan Carlos I of Spain Center • La Maison Française • NYU China House
There are two language-related floors at Lipton Hall, a first-year residence hall on the New York City campus:
L'Étage Français gives residents the opportunity to live with others who share a common passion for the French language. It is open to all levels of French speakers. A faculty fellow-in-residence plans and runs French-related cultural trips and activities for the residents.
Vivir en Español is open to speakers of all levels of Spanish. The community, led by a faculty fellow-in-residence, participates in a wide range of Spanish language activities and events.
CAREER OPPORTUNITIES FOR LANGUAGE LEARNERS
After you've invested the time and effort to learn a second language, there are plenty of career opportunities waiting for you to discover.
Here are some top fields to consider.
You can apply your language skills in settings such as private schools, language institutes, or after-school programs as well as within the education sectors of international nongovernmental organizations. In fact, studies conducted on bilingual education show that children who speak more than one language do better in their other classes as well. NYU's Foreign Language Education program at the Steinhardt School of Culture, Education, and Human Development prepares you to teach Chinese, French, Italian, Japanese, or Spanish in public schools at the secondary level. Plus, the program leads to your initial eligibility for certification to teach grades seven through 12 in New York State.
The ability to relate to people is critical to conducting business in the global economy. It's important whether you're brokering a multimillion-dollar deal or providing all-important services to a client or customer. Available jobs for bilingual sales reps in manufacturing and retail settings grew 6.3 percent and 6.1 percent, respectively, according to a study conducted by the Modern Language Association. Postings for jobs such as sales analyst, corporate liaison, and human resources specialist also increased.
Banking is done all around the world, and it involves engaging and communicating with people from different cultures and countries. In the United States, more than a third of the positions Bank of America advertised for in a single year, including financial analyst and investment banker, were for bilingual workers.
Foreign service officers serve as their nation's representatives in countries throughout the world. Depending on their career track, they might help Americans abroad, negotiate with governments, or direct embassy operations. You could also pursue a career as a high-level translator or corporate interpreter. According to the Bureau of Labor Statistics, employment opportunities for translators and interpreters are expected to increase by 46 percent before 2022.
The demand for bilingual health professionals is high in all sectors. On average, online job postings for registered nurses, medical and health services directors, licensed practical and vocational nurses, and medical statisticians made up an estimated 8 percent of all listings for bilingual candidates. Other health-related roles where knowing another language is an asset include medical interpreter, physician, radiologist, and pharmacist.
According to the Modern Language Association study, media-related professions, such as journalist, editor, and publisher, experienced the fastest growth rate in bilingual job listings in the United States. And if you have the ambition to work as a foreign correspondent, you will benefit hugely from the ability to speak with and interview people in their own language.
A tourism director who can bridge the language and cultural gap for clients is a prime commodity. In fact, the world's most famous hotels always demand that their executive staff are multilingual. Airline services are also international by nature, so knowing several languages can be useful if you choose to be a pilot.
TEN TOP COMPANIES HIRING BILINGUAL CANDIDATES
While large coastal cities tend to call for the most bilingual employees, you can still put your language skills to work at companies all over the country. Take a look at 10 of the top U.S. companies hiring bilingual workers:
Aetna • Amazon • AT&T • Cisco • Dell • Johnson & Johnson • Nielsen • Philips • UnitedHealth Group • Wayfair
NYU's global network provides opportunities for language learning at almost every one of our academic centers in cities on five continents.
Abu Dhabi: Arabic • Chinese (Mandarin) • French
Accra: Twi
Berlin: German
Buenos Aires: Spanish
Florence: Italian
Madrid: Spanish
New York City: American Sign Language • Arabic • Cantonese • Chinese (Mandarin) • Czech • Farsi/Persian • Filipino/Tagalog • French • Haitian Kreyòl • German • Greek (Ancient) • Greek (Modern) • Hebrew • Hindi • Irish • Italian • Japanese • Korean • Latin • Portuguese • Quechua • Russian • Spanish • Swahili • Turkish (Modern) • Urdu • Yoruba
Paris: French
Prague: Czech • German • Polish • Russian
Shanghai: Chinese (Mandarin) • French • Spanish
Tel Aviv: Arabic • Hebrew