Our libraries hold over 5.9 million volumes and give you access to more than 600 databases. That is a lot of knowledge at your fingertips, and the dedicated NYU Library team is here to help you make the most of these incredible resources. Michelle Demeter is the head of undergraduate and instructional services at the Elmer Holmes Bobst Library, our flagship library, and a big part of her job is to help incoming students get comfortable and familiar with the library and all it has to offer. We asked her to share some of her knowledge with us.
Michelle Demeter is the head of undergraduate and instructional services at NYU's flagship library, Elmer Holmes Bobst.
What are some things you wish students knew about the NYU libraries?
I want students to know that the libraries are their space. If there's not a label on it, anybody can use it. And if you're not sure, just ask somebody nearby. Ten to one, the answer is going to be that anyone can use it.
Also, I want students to understand that we expect everybody to come in with no knowledge of how to use NYU's resources. We're here to help you figure it out, and you can ask us any time you need help.
Another great thing to know is that you can get assistance with research 24/7. You can set up an appointment with a research librarian, or email us. Or, if you're working in your room at 3 a.m., you can chat with us and someone will help you. Fun fact: if you chat with us overnight, you're working with our amazing library colleagues in Abu Dhabi and Shanghai. We have research guides on our website as well, so you can get a jump-start on your research anywhere—you don't have to physically be in the library.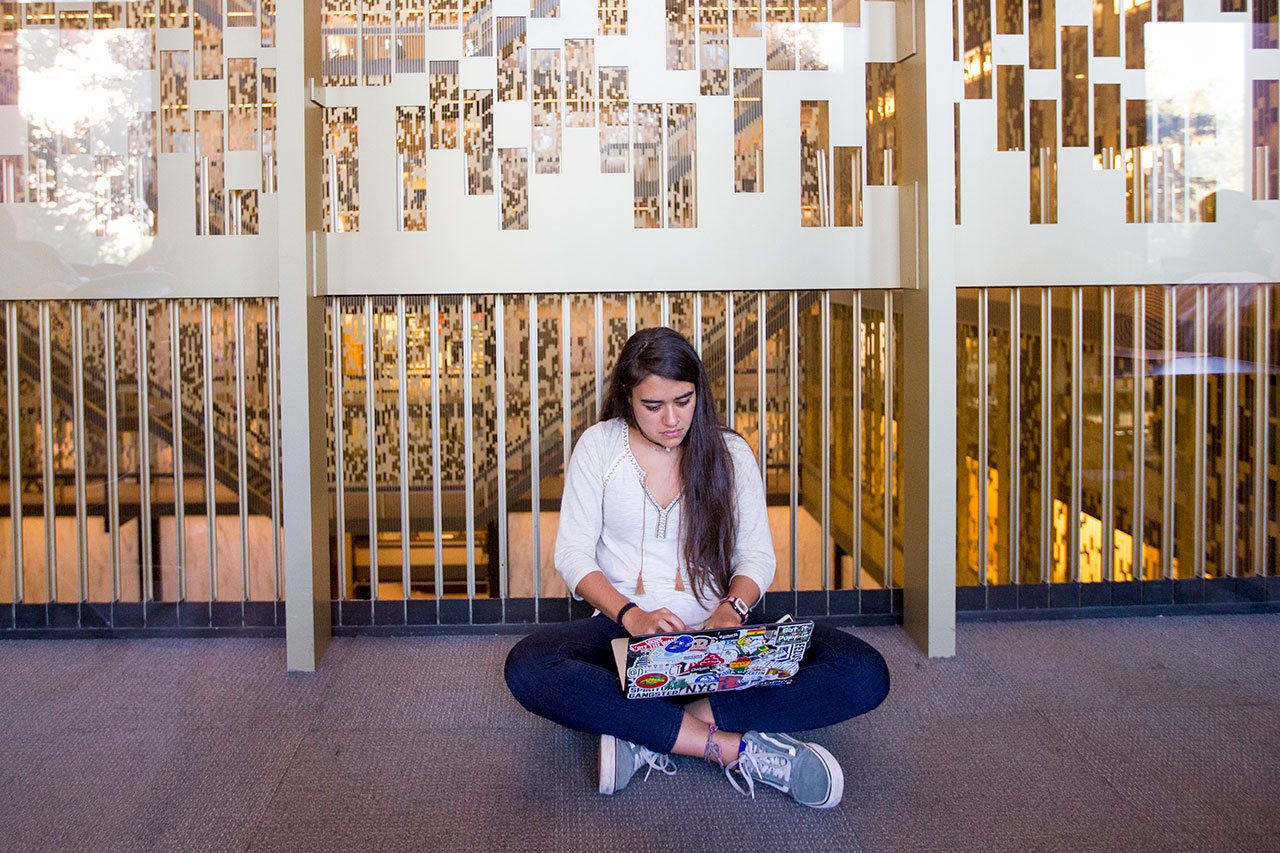 What is a research librarian, and why should students prioritize getting to know ours?
Basically, at NYU, a research librarian is somebody who has a library degree and another master's degree or PhD. So they are not only trained in instruction and reference but also very highly trained in a specific subject area. This makes them a double expert.
Let's say you're working on a project for an art history course. You may want to meet with our arts librarian, who has a master's degree in art history. She understands the subject, the classes, and what it means to do research in the field. She knows how to find all the right resources that you might need and can teach you how to do the right kind of research.
While we can't do your research for you, we can show you some great tips and help you get started. We want to teach you search strategies for finding the best books, the best articles, the most relevant material to whatever you're working on. We want you to feel empowered to take charge. And if you still need help—if you've changed your topic, say, and now aren't sure where you should be looking—we're definitely able to help you refocus.
What are some of the NYU Library system's most interesting resources?
Our Special Collections are actually one of our most underrated resources. I think students get in there and they're like, "This is fancy; I shouldn't be here." But primary documents and resources can add to your research. You might get to sift through the personal belongings and papers of a writer you admire, for example. You'll find one of the largest collections of Alice in Wonderland first editions and memorabilia. We also have cookbooks from different historical periods and from all around the world, and students can come in and just learn about cool recipes. Then, there's the Tamiment Library/Wagner Labor Archives. It houses materials from the history of labor, radicalism, and progressive social movements. And we have the original documents from the Riot Grrrl movement, which a lot of students are interested in.
What is one of the most popular resources in the NYU Library system?
Many students take advantage of the Avery Fisher Center for Music and Media, which is on the 7th floor of Bobst. We have extensive collections of music scores, music, and film in many genres and formats. Plus, you can access about 89 streaming video databases and 37 music and audio databases. There are also media rooms, so if a professor assigns a film for your class, you can reserve a room and watch it there with your classmates.
What piece of advice would you give to students?
Ask. As I told a group this morning, if somebody looks like they know what's going on, it's probably because they asked. That goes for any situation, no matter what it's about. Whether you ask a librarian, an adviser, a professor, or a counselor, just ask questions. Let us help. No one's going to know what you need unless you are vocal and advocate for yourself. We really try to make sure that students know that we are here to help and that they understand the wide range of resources that are available to them.