Past meets present on every street corner when you study abroad in London. And at NYU London, you can study everything—from Brexit to biology and architecture to Africana studies.
You don't have to wait until your junior year to learn in this unique environment. At NYU, First Year Away (FYA) is an opportunity for Liberal Studies students to begin college in the global arena. As an FYA student, you start out at one of NYU's sites in Florence, London, Madrid, Paris, or Washington, DC. There, you will bond with a smaller cohort and experience all your new city has to offer. For Justin Pilgreen, who is from a small town in Texas, FYA at NYU London was a perfect fit. "I actually wrote my 'Why NYU?' essay about the desire to expand my worldview beyond what I had known for the first 17 years of my life," he explains. "Little did I know it would be expanded more than I could ever imagine thanks to FYA."
All FYA students take Liberal Studies Core curriculum courses. These include courses in writing, art and culture, and global works and society. NYU London also offers many courses for students considering a prehealth track and a special program in African studies. In addition to the extensive curriculum, a range of site-specific courses enhance the experience. These include British Cinema, Modern Drama and Performance in London, and British Politics, among many others.
"My favorite courses in London were my Writing I and II courses. They are a part of the Core Curriculum" says Justin. "My professor gave us readings and assignments that allowed us to explore various aspects of British society and become acquainted with the culture. Having courses that truly cater to the environment in which we live is what I believe the global network is all about. Additionally, it was through those courses that I explored myself as a writer and learned how to eloquently articulate my thoughts in an academic manner."
The NYU London academic academic center is in the intellectual Bloomsbury neighborhood. It's in good company. Nearby, you will find other academic institutions including the University of London and the London School of Economics. Not only that, it is also home to a rich cultural ecosystem. Within walking distance, you'll find the Royal Institute of Philosophy, the Royal Academy of Dramatic Arts, and the British Museum, to name just a few. And as an NYU London student, you have access to the NYU center's extensive resources. What's more, NYU London students can use the Senate House Library, widely regarded as one of the best humanities and social sciences libraries in the United Kingdom.
When you study abroad in London as a first year student, you will live in the Byron Court residence hall. Here, apartment-style suites have one to three bedrooms, a kitchen, and a bathroom. "Having shared apartments helped us feel like independent adults," Justin states. "As we became more comfortable with the UK and as we gained local friends, we frequently had people over. It was not uncommon to simply walk over to your friend's apartment and knock on the door to ask them to hang out."
Additionally, the hall has laundry, a communal TV,  game rooms, and a weekly cleaning service. What's more, a live-in staff member, a student resident adviser, and 24/7 security mean there's always someone there to help you feel at home. The hall is a 20 minute walk to the NYU London academic center, and close to lots of public transportation options.
Walking tours, museum sessions, and attending performances are a regular part of studying abroad at NYU London. An architecture course might visit King's Cross railway station while an art course holds class at the National Portrait Gallery. Cultures & Context: Multinational Britain brings students to the Houses of Parliament and the British Museum. Meanwhile, students in theatre courses attend performances at Shakespeare's famed Globe theatre.
Getting Involved Beyond the Classroom
Volunteering, clubs, and academic internships are great ways to adapt to your new city while you study abroad in London. "I volunteered regularly in the national office of STAR (Student Action for Refugees)," says Justin. "This nationwide network of students works to improve the lives of refugees in the UK. While there, I helped plan and implement national campaigns designed to change national policy on the university and national level." You can also volunteer in schools, assist the elderly, and plant trees. And all NYU London students join the University College London Union, which provides access to 250 student-run clubs.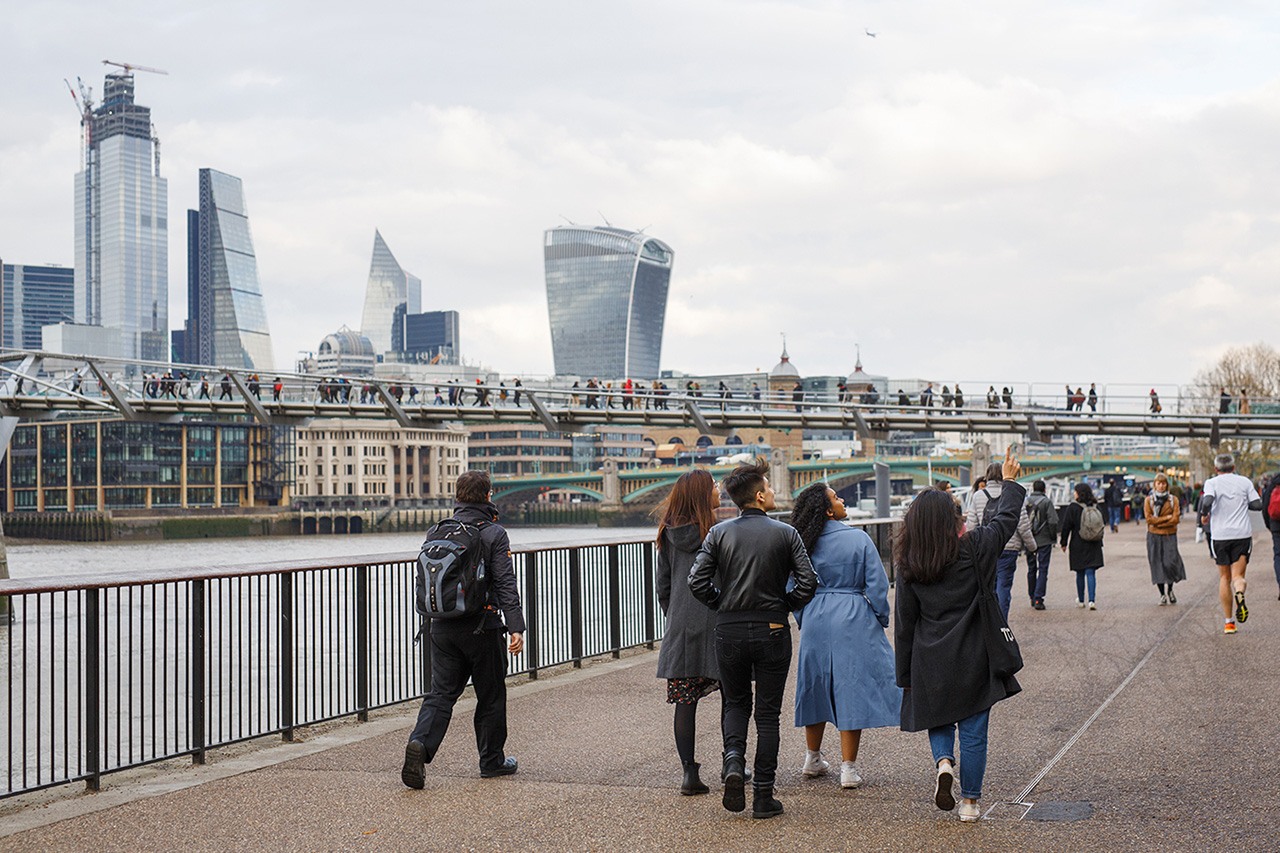 To enhance your experience at NYU London, faculty and staff plan activities that are both educational and fun. Local trips within the city, day trips, and weekend excursions abound. For Justin, the trip to Stonehenge was a particular highlight.
"This was one of the first trips NYU London took us on. It was also the first trip after my friend group for the year had solidified," says Justin. "We visited the iconic Stonehenge, but we also went to the local town of Salisbury and had a day to simply explore. We had lunch in a local pub, visited a cathedral, and souvenir shopped. Next, we stopped into a local ice cream shop and bought very overpriced, but very delicious, ice cream. Then we ate it while walking through the medieval, narrow streets and laughing loudly like typical Americans. Seeing such a bucket list site with people I enjoyed being around, and who I would spend the rest of the year with, was one of the happiest days of the year."