Are you passionate about STEM and engineering but not sure which road to take? You're not alone!
Whether you're intrigued by circuitry, captivated by the design of towering skyscrapers, or interested in the fusion of biology and technology—keep on reading. You'll find information about the diverse engineering majors offered at NYU Tandon School of Engineering. And I'll shed some light on these disciplines and possible career paths each major has to offer.
When you first arrive at NYU Tandon, regardless of your chosen major, you'll take courses shared across most disciplines. Why? Because most majors at Tandon require foundational classes applicable to almost every field of study. These subjects include Introduction to Engineering and Design (one of my favorite courses!), Calculus I and II for Engineers, and Physics I and II. However, as you progress in your academic journey at Tandon, you'll gradually transition into specialized courses tailored to your major.
This major focuses on how to construct the very foundation of our interconnected world. Imagine designing awe-inspiring bridges, breathtaking skyscrapers, and systems that provide communities with clean water. With this degree, you'll use your creativity to shape the urban landscape and transform blueprints into breathtaking realities. Friends in this major have several different plans on what they want to do after graduation. For instance, some plan to be architects, others are interested in environmental engineering, and some look forward to becoming construction and project managers! There are so many possibilities. Certainly, students have many options of which career path they can choose.
What I really like about this major is that all students have to take courses related to every field of civil engineering. As a result, students get a taste of each branch of civil engineering. This way, when they graduate, they're confident to enter any field of their interest. Tandon students with this degree have worked at companies such as H Mart, Turner Construction, and Jacobs Solutions.
Sample Coursework—Structural Engineering, Geotechnical Engineering, Water Resources Engineering
Chemical and Biomolecular Engineering
This major studies how materials shape our world; students learn to manipulate matter at the molecular level. As a result, they learn to create products ranging from pharmaceuticals to sustainable energy solutions. I'd say this is the only field of engineering that combines three sciences: physics, chemistry, and biology. Several friends in this major plan to go to medical school after graduation. These friends always have some super interesting stories about what they did during their lab! For example, they've dissected pigs' hearts and brains, frogs, and even sharks. Still, others are ready to dive deep into research and biotechnology. This major also offers various career paths after graduation. Tandon students who graduated with this degree have worked at companies like Con Edison, L'Oréal, and Estée Lauder.
Sample Coursework—Organic Chemistry I and II, Chemical Engineering Computation, Polymeric Materials
Studying this major breathes life into the machines, devices, and systems powering our world. Nearly every object you encounter has been influenced by a mechanical engineer. Don't believe me? They developed the cooling and compressor system for refrigerators, the design of the blade and motor of a fan, and the frame, gears, and brakes of bicycles. The list goes on and on.
The best part of this degree (and any engineering degree, tbh) is the range of its application. For example, my friends in this degree have nontraditional career aspirations. Some have an interest in business, hoping to follow a path to investment banking. Others are eager to explore the aerospace sector, determined to develop technologies used in aviation and spacecraft. Tandon students with this degree have worked at companies such as Amazon Robotics, Boeing, and Apple.
Sample Coursework—Thermodynamics, Materials Science, Machine Design
I would describe electrical engineers as modern-day magicians, working behind the scenes to power our world. These engineers are able to transform abstract ideas into tangible innovations. They design and perfect the systems that light up our cities, connect us across continents, and bring life to our devices. It is the work of electrical engineers that keep us scrolling, swiping, and sharing. In a world that is run by electricity, they have the ability to turn imagination into the vibrant realities that power our lives.
And the best part of this degree? The possibilities are almost endless! One of my friends who is an Electrical Engineering major plans to go to law school. It's made me realize that your major does not limit your career path. Tandon students with this degree have worked at companies such as Amazon, Lockheed Martin, and Procter & Gamble.
Sample Coursework—Fundamentals of Electric Circuits, Digital Logic, Signals and Systems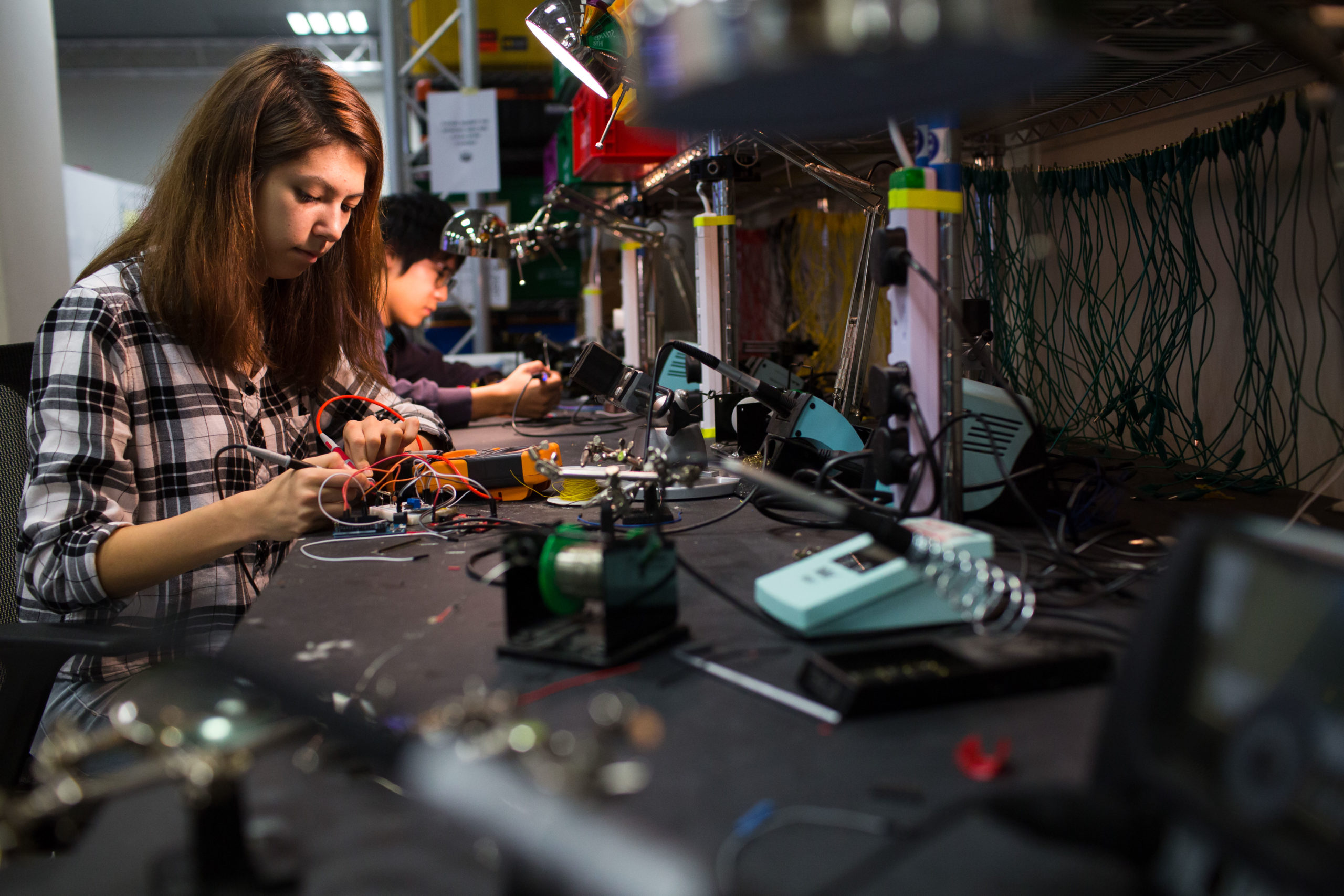 Computer Engineers are also the architects behind the devices helping run our lives. They deal with circuits, codes, and softwares to build social media apps, work with robot arms, and even dive into the future of artificial intelligence. Basically, they're coding geniuses! However, their expertise isn't just limited to coding. They also focus on computer hardware and are able to design and build different types of hardware like memory systems for computers.
My friends in this major want to develop hardware and software applications for virtual reality as well as design secure networks to protect different types of data. Tandon students with this degree have gone to work at companies like Facebook, United Airlines, and Tesla.
Sample Coursework—Computer Architecture, Fundamentals of Electric Circuits, Digital Logic
Moreover, Tandon recognizes the overlap between electrical and computer engineering, allowing students to pursue a combined degree. And of course, if students are interested in more than one field of engineering, they have the opportunity to double major or take on a minor!
In their own way, each engineering major is like an architect. Chemical engineers work on the molecular level, mechanical and civil engineers shape the tangible world, and electrical and computer engineers shape our digital world. And together? They use their skills to push our world forward—one blueprint at a time.