Published October 13, 2022
Meet the NYU Tandon School of Engineering
NYU was founded to be "metropolitan in character, democratic in spirit," and responsive to the needs of New York City's rapidly evolving population. Today, these themes remain at the core of NYU. And they have led the University to develop 10 distinct undergraduate schools and colleges in New York City, degree-granting campuses in Abu Dhabi and Shanghai, and 12 additional global academic centers and programs in cities around the world. NYU's urban spirit is fundamental to the student experience. For example, at NYU, professors are experts in their fields who are tapped into local networks; courses take advantage of the opportunities and interact with the city culture; and internships are right around the corner. And at the NYU Tandon School of Engineering, students live and learn in one of the fastest-growing hubs of technology and entrepreneurship on the planet: Brooklyn.
The NYU Tandon campus is located in the middle of what started as the Tech Triangle but has burgeoned into the Innovation Coastline. This now radiates from the Brooklyn waterfront and encompasses New York City's five boroughs.
Tandon welcomes a wide range of experiences, expertise, and perspectives. This creates an environment that fosters creativity, innovation, and excellence. In this dynamic and inclusive atmosphere, you can work on pioneering research and projects alongside established industry partners, up-and-coming start-up founders, and some of the world's most talented engineering faculty and students.
A Home for Creativity, Research, and Innovation
With more than 80 state-of-the-art labs, research centers, and institutes, experimentation and collaboration are central to the NYU Tandon experience. For course assignments, research, and competitions, students have access to leading-edge prototyping equipment inside the 10,000-square-foot MakerSpace. There, students can also learn design thinking and ideation best practices through the Design Lab. What's more, they can work with distinguished faculty mentors in the Undergraduate Summer Research Program. Or they can contribute to aerospace, artificial intelligence, and biomedical engineering research by joining a multiyear, multidisciplinary Vertically Integrated Project (VIP). In just five years, the VIP program has grown from a few teams to more than 40. From the Center for Urban Science and Progress to the Cell Programming and Genome Engineering Lab, Tandon is filled with people collaborating at the intersection of disciplines to design healthier, smarter, better-connected, and more sustainable communities. 
Numerous activities, events, and over 40 student clubs offer additional ways to engage. For example, you can find connections and support while building a better future in groups like Women in Business and Entrepreneurship and the National Society of Black Engineers. Join Tandon's iGEM team and take part in the world's largest genetically engineered machine competition. Participate in HackNYU and code original applications under the mentorship of local industry professionals. Design and race all-terrain vehicles at the Baja SAE competition when you join NYU Tandon Motorsports. And so much more. At Tandon, you'll find countless opportunities to bring your ideas to life.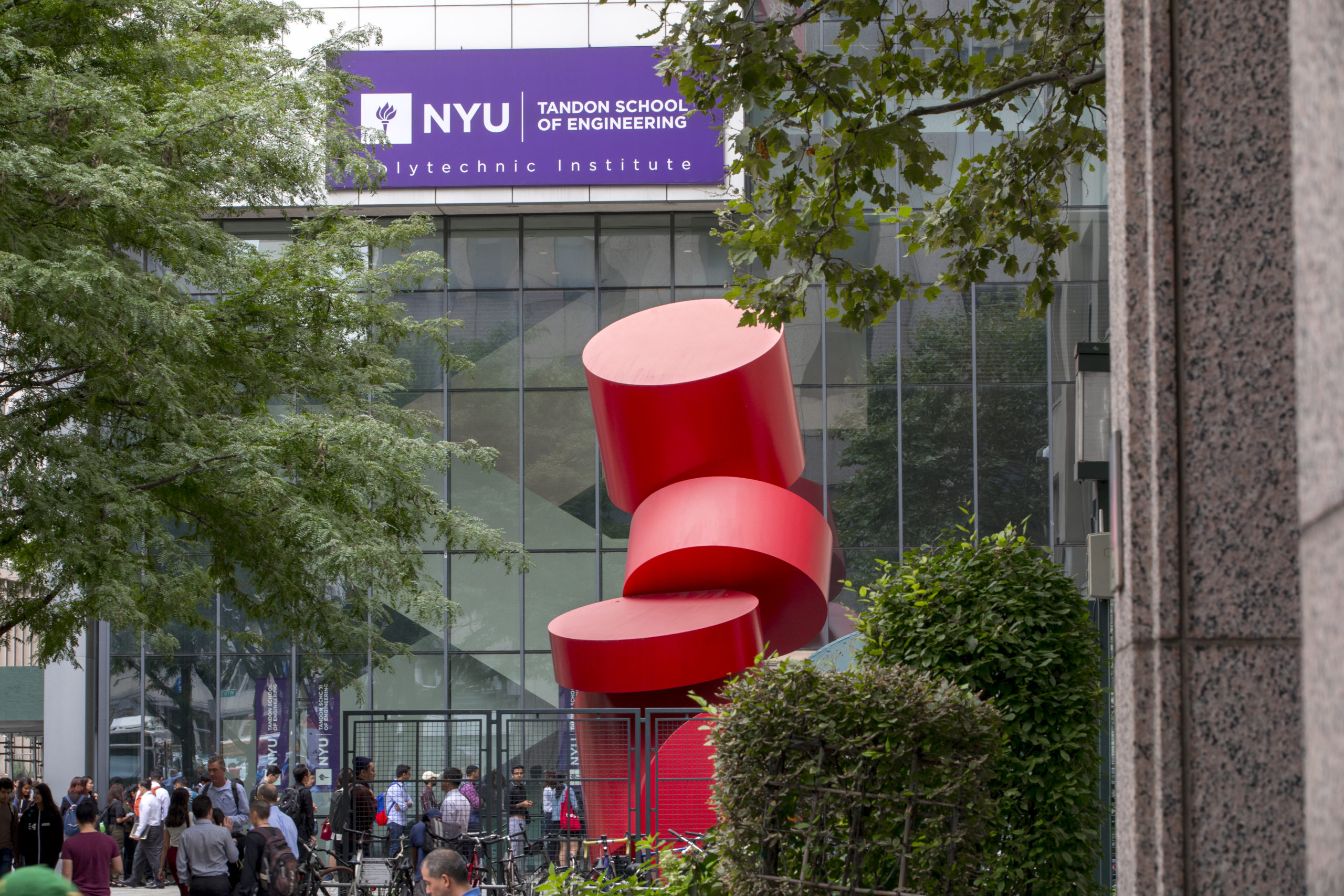 Academic Programs That Prepare You to Solve Global Challenges
With 13 undergraduate majors and more than 25 minors in science, technology, engineering, and mathematics (STEM), NYU Tandon has many options for you to align your studies with your interests and aspirations. Here are a few of the majors offered at Tandon.
Biomolecular Science
Learn how cellular and molecular changes can help feed growing populations, enable life-extending therapies, and produce affordable renewable energy.
Business and Technology Management
Learn how to successfully lead and manage projects, teams, technology, and innovation. Apply your knowledge to real-world cases in high-growth arenas.
Computer Science
Explore how the computers and systems we interact with daily are designed, built, and used. Gain research lab experience in areas like cybersecurity, game engineering, and big data.
Integrated Design and Media
Combine artistic inquiry with scientific research and practice in this maker-centric, project-based curriculum. Create and use emerging technologies to tackle societal issues through courses, labs, research, and internships around the city.
Mechanical Engineering
Mechanical engineering informs everything from robots to power plants, artificial limbs to escalators, and rocket engines to weather satellites. On the computer and in the lab, you can practice and perfect the competencies necessary to enter this exciting field.
Innovative Courses and Interdisciplinary Exploration
In your first year at NYU Tandon, you'll take Engineering and Technology Forum course that promotes entrepreneurship, cross-disciplinary collaboration, and innovation. As a senior you'll showcase your skills in a design capstone. Your major, minor, and electives determine what's in between. To help you navigate and curate all of the experiential learning opportunities available and design a path toward your ambitions, you can turn to the newly launched Experiential Learning Center. Maybe you want to gain international experience studying abroad. Or perhaps you want to begin working toward a Tandon master's degree as early as junior year with the accelerated BS/MS track. Depending on the academic path you choose to pursue, you can take advantage of courses like the ones below.
Applied Cryptography
Gain experience building provably secure cryptographic protocols and study current applications and implementation issues of modern cryptography.
Human-Centered Product Design Studio
Learn about each stage of the design process before taking an idea from concept to prototype. Practice skills like sketching, model making, and 3-D printing along the way. 
Robotic Manipulation and Locomotion
After learning the essentials, apply your knowledge and program four-limbed robots to manipulate objects and move through space. 
Science and Feminism
Draw on anthropology, sociology, history, and the philosophy of science to critically examine how gender and race affect the day-to-day practice of science. 
Where Leaders and Entrepreneurs Are Made
NYU Tandon students graduate ready to apply innovative thinking and leadership skills and build fulfilling careers in a variety of roles and industries. Below are a few alumni who exemplify Tandon's mission to be the home to critical thinkers and future shapers. 
Ursula Burns, a 1980 Mechanical Engineering alumna and former CEO of Xerox, led the STEM education program under the Obama administration. She was the first African American woman to head a Fortune 500 company. 
Evan Moskal cofounded Courant two years after completing the Business and Technology Management program in 2016. Since then, Better Homes and Gardens, Fast Company, and Oprah's Favorite Things have praised the company's finely crafted wireless chargers.
Ana Bolsoni earned her Computer Engineering degree with a Cybersecurity minor in 2018. Now she helps organizations mitigate risk and combat illicit activities as a senior consultant in financial crimes compliance at EY.
While an undergrad at Tandon, Joe Landolina engineered a revolutionary gel that could instantly bond to living tissue and stop bleeding. He later founded Cresilon, a Brooklyn-based biotech company that recently submitted the gel for FDA 510(k) clearance for human use and raised $38.5 million in Series A3 financing.