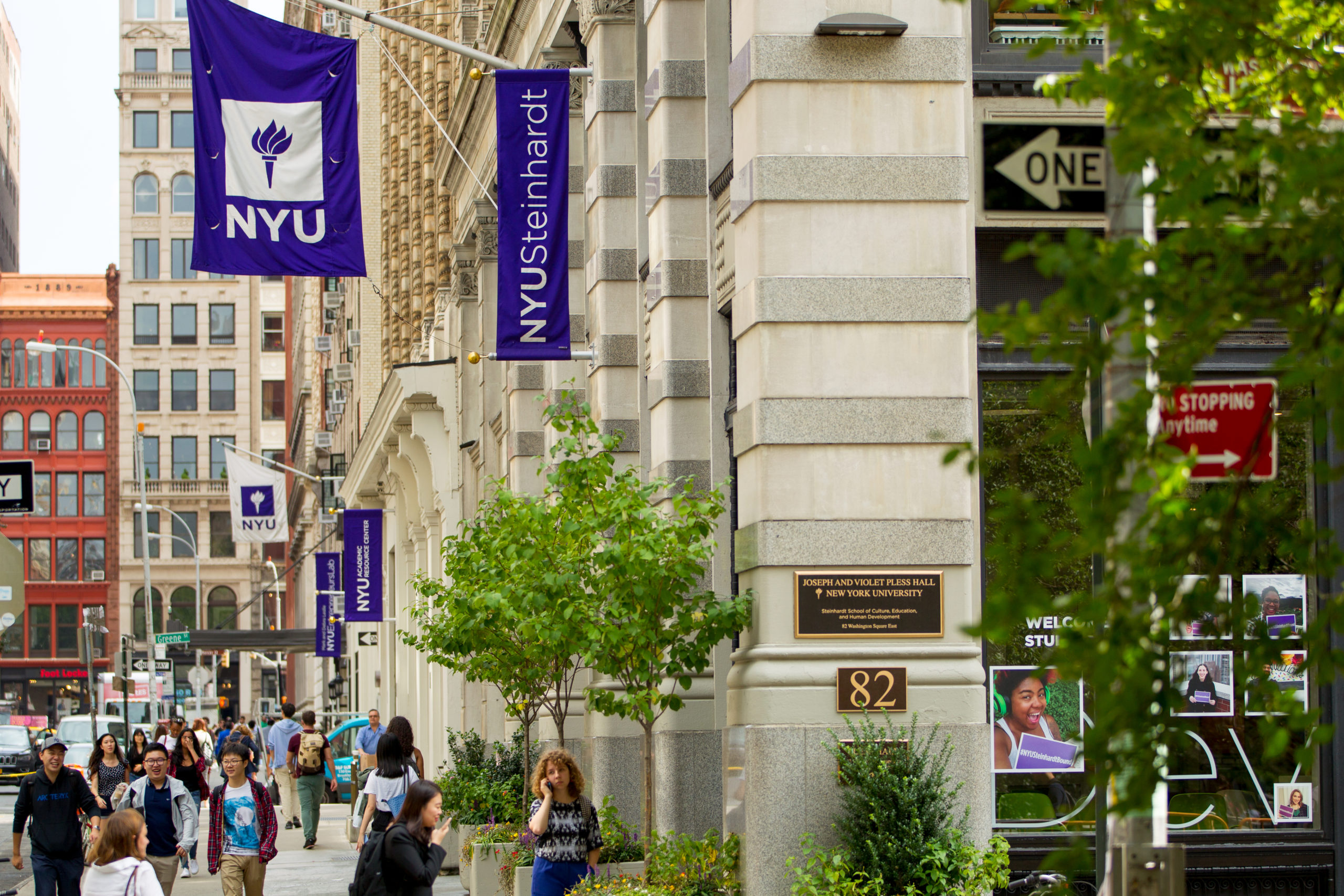 NYU was founded to be "metropolitan in character, democratic in spirit," and responsive to the needs of New York City's rapidly evolving population. Today, these themes remain at the core of NYU. And they have led the University to develop 10 distinct undergraduate schools and colleges in New York City, degree-granting campuses in Abu Dhabi and Shanghai, and 12 additional global academic centers and programs in cities around the world. NYU's urban spirit is fundamental to the student experience. For example, professors are experts in their fields who are tapped into local networks; courses take advantage of the opportunities and interact with the city culture; and internships are right around the corner. And at the NYU Steinhardt School of Culture, Education, and Human Development, impact, innovation, and community all come together for a singular academic experience.
Here, over 3,000 undergraduate students explore careers in a wide range of disciplines, from education and psychology to music and media. With roots as the first school of pedagogy in the United States, Steinhardt now includes 195 undergraduate and graduate degree programs. With so many options, finding your path is a process of exploration, students say. "I doubted that I'd find a field that encompassed my three greatest passions: language, health care, and service. But my Communicative Sciences and Disorders major was a perfect fit!" exclaims Joyce Chung, Class of 2023.
At Steinhardt students chart their path through academic exploration and real-world opportunities to practice what they learn. They can delve into different topics and zero in on their passions, propelling them beyond traditional book and lecture learning. For example, students roll up their sleeves and test their expanding skill sets with fieldwork, self-directed studies, and guidance from professionals. Read on to find out how students in a variety of Steinhardt's undergraduate programs found their callings.
A Music Theory and Composition Major Discovers His Rhythm
After taking a Steinhardt two-week film scoring workshop as a high school student, Cameron Moody knew he wanted to attend college at NYU. Now a Music Theory and Composition major concentrating in screen scoring, Cameron's career took off when composer Michael Abel evaluated his work. This interaction resulted in an invitation to help score an HBO docuseries. Thanks to the skills he learned at Steinhardt and on the job, Cameron is developing his own approach to scoring. He watches scenes several times before attempting musical accompaniment. "What is happening musically? In terms of mood, what is the scene like? Is it sad or romantic? Or is it an action sequence? Is something happening that I should call special attention to?" he asks. "Once I figure that out, usually with the help of the director, that's when the creative process starts."
A Communicative Sciences and Disorders Student Refines His Interests
NYU Steinhardt's breadth of offerings presents unique opportunities for students to craft their futures. For example, Kenzo Kimura, a Communicative Sciences and Disorders major on the prehealth track, says, "Outside of my prehealth requirements, I took various courses relating to education, health, and different cultures. My honors thesis focuses on dismantling bias against non-English accents. I hope my research on speech perception will help tackle important issues, such as anti-immigrant discrimination in the 21st century." His studies have led him to research speech development in multilingual individuals. Kenzo plans to use what he has learned at NYU Steinhardt as a springboard to a career in medicine.
An Education Studies Major Finds Her Focus
When she started at NYU, recent graduate Jolie Radunich didn't know what direction her life would take. Then, she took Education and Social Entrepreneurship, a course offered through Steinhardt's Education Studies program. She'd been investigating opportunities in early childhood education but didn't picture herself as a classroom teacher. "When I started to read all the case studies and hear from our guest speakers, I felt like these were the types of creative and transformational opportunities I wanted to be a part of," she says. Ultimately, she chose to major in Education Studies. Now Jolie is pursuing a career in ed tech. Recently, she published a book called Elephant Prints: Reconstructing Our Image of Brilliance, which challenges perceptions of education by unveiling underrepresented educators.
A Digital Art and Design Minor Takes an Interdisciplinary Approach
Many students find that interdisciplinary studies allow them to focus on the topics that feed their passions. For example, College of Arts and Science Economics major Cathy Zhang did this by minoring in Digital Art and Design at NYU Steinhardt in addition to Business Studies at the Stern School of Business. "When I came to NYU, I had no expectations of where university life would take me," says Cathy. "I took every day as it came and talked to as many people as I could. I viewed choosing classes as an opportunity to learn things that were intrinsically motivating to me. NYU provides so many resources to find your niche. So even those studying similar subjects can have an entirely different story. It's an amazing part of this school."
Two Media, Culture, and Communication Majors Gain Podcast Success
As juniors, Joanna Yamakami and Arnell Ariyana began thinking seriously about life after graduation. The more they explored their options, the more they became fascinated by unconventional career choices. Drawing on their skills as Media, Culture, and Communication (MCC) majors, they decided to turn their curiosity into a podcast. As a result, So, What Do You Do? was born. "As an MCC major, I can analyze how to tell stories and figure out which ones have the urgency to be told," says Joanna. Their podcast premiered on WNYU, NYU's student-run radio station. Since then, they've interviewed an urban explorer, a professional cuddler, a stuntwoman, a stand-up comedian, and more. In 2019 Joanna and Arnell went on to become official Webby Award honorees.
Courses for Every Interest
Teacher education, food photography, instrumental performance, studio art, documentary filmmaking, and audiology are just some of the subjects students can study at NYU Steinhardt. Here are a few more unique course options:
Adaptations for Specialized Populations
This course teaches students various approaches to art therapy when working with clients with cognitive or physical limitations or chronic illnesses.
Advanced Topics in Food Systems: Food Futures
In this course students weigh the impacts of overusing fertilizer, exploiting fossil fuels, and other human-made issues in our food systems, ultimately seeking sustainable solutions.
Carpe Datum: Data Science for Life's Big Questions
In this course students learn to code in the R language and use simulation-based methods to answer theoretical questions.
Concert Management
Students get an introduction to the concert business, including how to plan and execute all aspects of a live performance, from costuming and crowd management to tour planning and contracts.
NYU Steinhardt's alumni are proof the school is positioned at the nexus of arts, education, communication, and culture. Students graduate ready to pursue wide-ranging opportunities for cross-disciplinary study and collaboration.
Emily Weiss (Class of 2007), founder and chairwoman of Into the Gloss and Glossier, a digital-first beauty company, has been named to Forbes' list of 30 Under 30 and Time's Next Generation Leaders. Additionally, Glossier was nominated for Inc. Company of the Year in 2017.
Ian Axel and Chad King (both Class of 2007) were music business students when they began collaborating. They formed a duo, A Great Big World, which won a 2015 Grammy Award for Best Pop Duo/Group Performance for "Say Something" with Christina Aguilera.
Willa Tellekson-Flash (Class of 2018) is founder and director of community at Public, an investing platform that gained $220 million in venture funding this year. She is responsible for member engagement, education, and community moderation.
Kweighbaye Kotee (Class of 2009), a Media, Culture, and Communication major, founded the Bushwick Film Festival while still an undergraduate. At the time, Lucy Liu selected it for an inaugural IFundWomen Jane Walker First Women Grant. Kweighbaye has since expanded her work to found the Bushwick Film Institute, which empowers historically marginalized storytellers.