The TL;DR
Whether you're applying to NYU's New York City, Shanghai, or Abu Dhabi campus (or even more than one campus!) here's what you need to know about changes to NYU's Common Application for the 2023-2024 academic year.
It's August 1st and that means the application at NYU has officially opened. This year, we've made some pretty big changes to NYU's Common Application to simplify the process for our applicants, and to help us learn a little more about you!
When you start NYU's member questions on the Common App, you'll see 6 sections that you'll need to complete. We give you a little bit of a head start by checking off the "Writing" section. This section is optional – but also new and exciting! More on that later.
The General Information Section
In the "General" section, you'll be asked a few questions about how you want us to handle your application – Early Decision I, Early Decision II, or Regular Decision? – and which campus you want to apply to. As you (hopefully!) already know, NYU has three degree-granting campuses: in New York, Abu Dhabi, and Shanghai. Our Common App will let you apply to any combination of our campuses.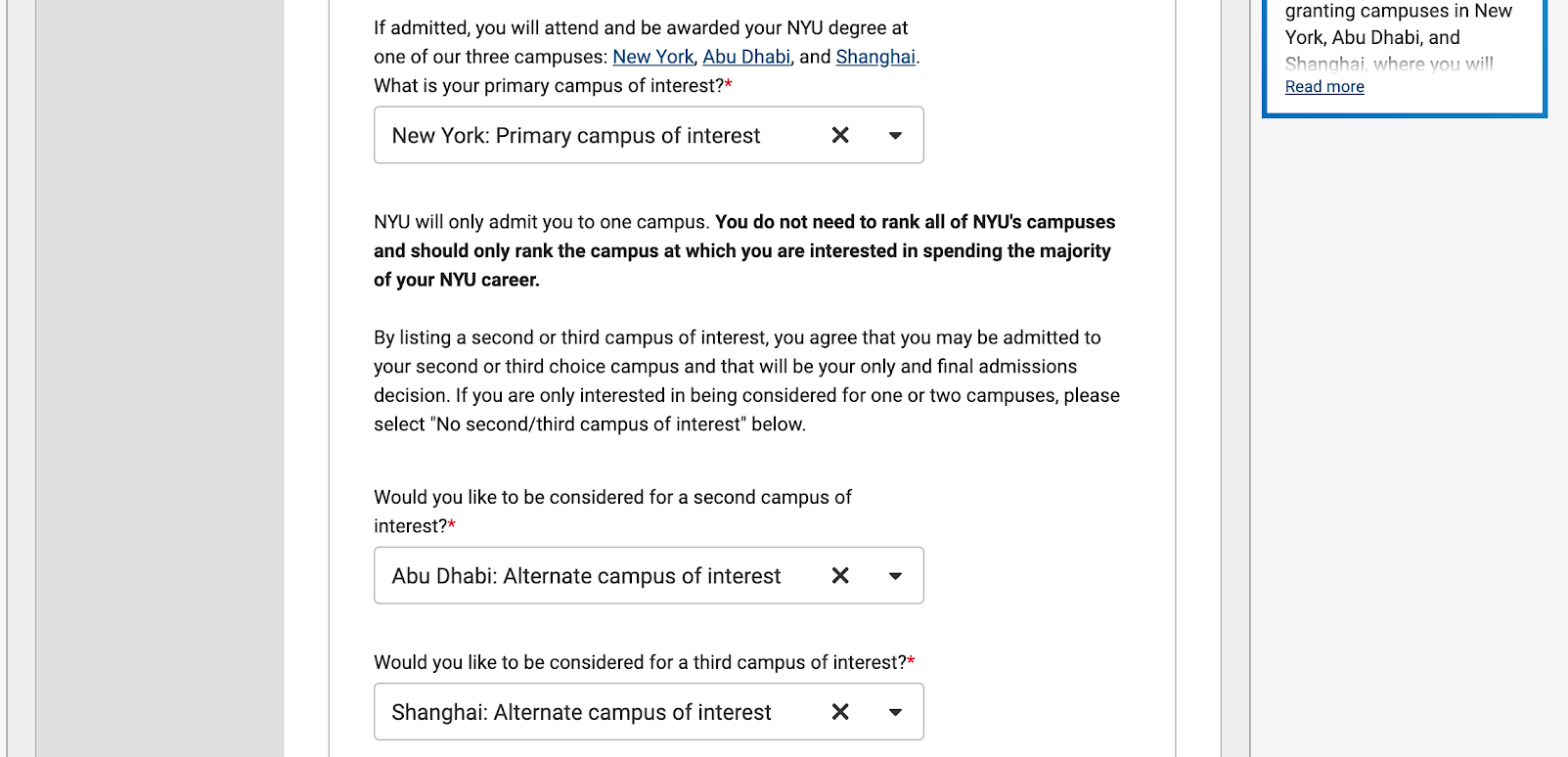 Once you make your campus selections, an additional set of questions will show up that are specific to your campus(es) of interest. Nothing too tricky here! You'll be able to tell us about your academic area of interest for each campus, and a few other quick-and-easy questions about program eligibility, housing preferences, etc. so that we're ready for you if you are ultimately admitted.
Once you have those sections squared away, you'll move on to the Academics section. This section will walk you through the information we'll need you to submit outside of the Common App itself. Nothing to do here, except confirm that you're clear on the next steps and additional requirements.
The Optional Supplemental Question
Now, the moment you've been waiting for: The optional, pre-checked-off Writing section. Last year, we made the decision to remove our "Why NYU?" question. However, what we heard from our applicants was that people really wanted to tell us more! But the thing is…we already know why NYU is a great place to spend your 4 years, so we thought: if you want to tell us more about your passion for NYU, let's make the question about you.
The new writing question says "We are looking for peacemakers, changemakers, global citizens, boundary breakers, creatives and innovators. Choose one quote from the following and let us know why it inspires you; or share a short quote and person not on our list who inspires you, and include why."
We then share a few quotes from people who have shared our vision over the years – and who have been honored for their embodiment of the NYU ethos as NYU Honorary Degree recipients and Commencement Speakers.
So, if it feels right for you to tell us a little more about yourself in the application, we want to know where you will turn to for inspiration, and what experiences have shaped you and resonate with you. Four years at NYU will propel you into a future you might not even be able to imagine yet, but take a minute (if you want – it really is optional!) to tell us about the ideas that have gotten you to this point, and those that might shape you into the person you're about to become.
These are just a few of the changes we have made this year, so make sure to carefully read each question carefully before you answer them. If you ever have any questions for us about our questions, we are always here to help. We wish you the best of luck this application season, and can't wait to learn more about you!