Published April 11, 2023
5 Must-Take Photo Ops For Your First Year at NYU
**This article was originally posted in June 2021 and has since been updated and republished.
This should come as no surprise. Although we may not have a "real" campus, one of the perks of being an NYU kid is the ability to boast about having Washington Square Park as our "unofficial quad." Assuming you go to class on a regular basis, you will pass through this park more than 1,000 times. Therefore, it's only fitting that you snap one (or three) shots here. There are a variety of ways to approach the picture. Here are 2 examples, one from my first year and one from my junior year:
A little camera shy? No problem. What are friends for? Grab your photogenic bestie and have a picnic.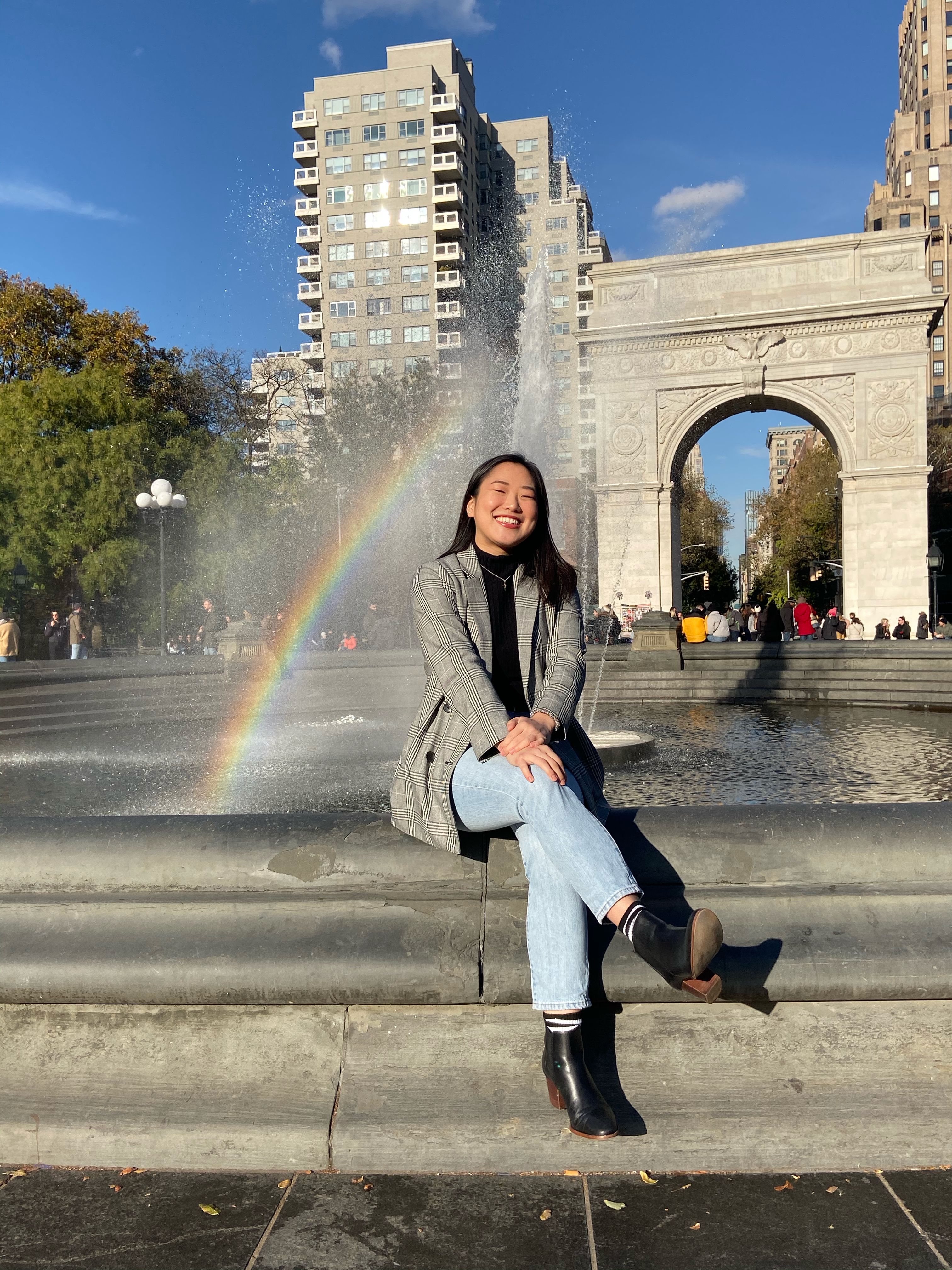 Feeling a little bold? A solo shot is always a staple. You may get a few looks but own it. Take a seat on the fountain and let the photoshoot begin. If you're lucky, there may even be a rainbow.
Don't care to study away? No problem. Take a quick trip to the alcove across from Weinstein. Step into Europe within a matter of minutes. This photo is basically a rite of passage as an NYU student. Dress as you like, but I recommend a little Business Casual ensemble. But no matter what you wear, the backdrop will be sure to elevate the look.
Who needs a plane ticket to travel?
If you live in Founders or Third North, you probably pass this place almost every day on the way to and from school. Hint: it's that place by Astor Place with the intense red signs at night. New York is known for its city lights, but going to Times Square is both inconvenient and frankly, unpleasant. This is a much better alternative. Tip: dress a little edgier.
My best attempt at being edgy
4. Brooklyn Bridge in Dumbo
Okay so this is a very touristy picture, but, we all know it's necessary. The main challenge here is finding a moment where there aren't hoards of people in the street. Getting the optimal lighting can also be difficult if you want the bridge perfectly in the background. To try and avoid this, go later in the day when the sun isn't so bright. Looking back at my own photo, I realized it definitely could've been better executed, but hey I learned my lesson. 
Why so serious, Heidi?
Fairy lights are key. If you're a first year, there's a 75 percent chance you have these in your room. Good news, these are perfect for adding some mood lighting to a photo. My first year I was clearly going through a no-smiling phase but feel free to make yours more warm and cozy. You don't even have to be in the photo if that's not for you. If you're lucky and have a room on a high floor, try a cityscape at sunset. 
Wow I miss this aesthetic setup...
I didn't live on a high floor my first year unfortunately, but luckily I had friends who did. Naturally, I borrowed their view.
6. BONUS: Winter Wonderland
This is probably the trickiest photo on this list. For one, it relies on a beautiful snow day, atypical of the brown slush that often characterizes NY snow. But, my first year I was determined to get that iconic snow day shot, so I made the trip uptown to Central Park to have a little fun. I was inspired by the timeless 'New York Christmas' (despite the fact that it was March). If you don't feel like going uptown, Washington Square Park will do just fine. Take this photo alone or with your fellow freshman pals to celebrate your first snow day in NYC. It's something you won't want to forget.
This is probably my favorite photo from my first year at NYU :)
Hopefully this provided some inspiration for your future Instagram feed. Get creative and most importantly, have fun. You only come to New York City for the first time once so why not commemorate it? Happy exploring!