Published February 02, 2023
10 Things I Wish I Knew as an NYU First Year
**This article was originally published in January 2021, and has since been updated and republished.
We're excited to have you join our family. As eager as you may be to step foot on campus as an NYU first year, take a moment to check out these words of wisdom from a fellow Violet. 
1. The City Isn't That Hard to Navigate
As an NYU first year, I panicked the first time I looked at a subway map. However, after just my first semester, I navigated my way through the city like a pro! The trick is simple: you can't ever learn how to find your way around if you never try. You will (inevitably) get lost at least once, but hey—that's life. Grab a couple of your fellow first years and try to make your way around Manhattan together; traveling in groups is always a safe, great idea! In addition, don't be afraid to use Google Maps the first few times (or throughout your four years, if you'd like).
2. NYU Seems Big, but the Community Is Tight-Knit
3. You Won't Go Broke as long as You Budget Yourself
The temptation to spend money is so real—especially in New York City. However, in order to avoid blowing out all your life savings within your first month of your first semester, budget your spending habits. In addition, contrary to popular belief, you don't have to spend money to have a good time in the city! There are tons of fun, free things to do, so you can save that extra spending money for something else in your budget (dinner at one of the many restaurants around Manhattan, perhaps).
Joe's Pizza, a popular destination for Violets in need of a good, affordable slice.
4. Dining Halls Have Tons of Options
Contrary to popular belief, dining hall food is fantastic—especially for NYU first years. If you live on campus, you won't be more than five to eight minutes away from the nearest dining hall … that is, if you don't live in the same building as one! Plus, with options like vegan, vegetarian, gluten free, halal, and kosher, NYU really caters to every kind of dietary requirement. A word of advice … brunch at Palladium is a can't-miss dining experience, so grab your friends one Sunday morning and enjoy!
5. It's OK to Spend a Night In
Any college veteran will admit that they've battled FOMO (fear of missing out) at some point throughout their four years. However, a key to a great college experience is identifying your own social limits. If you've had a crazy week, don't put pressure on yourself to go out if you're genuinely not up for it. Spending the night in is totally acceptable and fine! Plus, your friends will always be there next week, so it won't hurt to take it easy one Saturday. Catch up on your favorite, free HBO Max shows and movies (Thanks, NYU!) and snuggle with your coziest blankets for a perfect night in.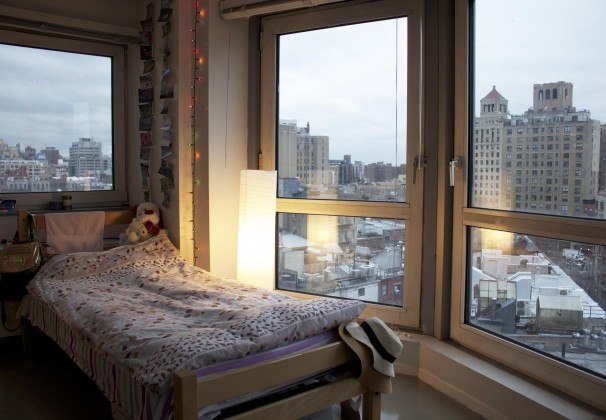 The view from a cozy room at Alumni Hall, one of NYU's on-campus residence halls.
6. Your Family Is Only a FaceTime Away
It's normal for every NYU first year to feel a sense of homesickness, but never fear—we fortunately live in the 21st century! Make a habit of FaceTiming or calling your family during your daily campus commutes, in between study sessions, or before bed. It'll help combat your homesickness and serve as a reminder that no matter how far from home you may physically be, your family is always there to support you.
7. Find Your Favorite Spots to Decompress
If the city gets overwhelming (and it will sometimes), find your zen zone. In fact, peaceful spots around campus include Washington Mews, Washington Square Park, or perhaps one of GCASL's many meditation rooms. Off campus, I recommend searching for your own quiet corner of the city. Whether it's a tiny bookstore, a hole-in-the-wall coffee shop, or your own personal zen garden, finding your "spot" to de-stress is important, especially as a first year. NYU may be an urban school, but that doesn't mean you won't find a private place for peace.
Washington Mews: a street that hosts most of our international houses.
8. Cut Yourself Some Slack
You're showing up, working hard, and doing your best—and that's amazing. There's no reason for you to be hard on yourself! Adjusting to college life can feel overwhelming, but remind yourself how hard you've worked to make it here. Added stress won't contribute to your college experience, so fill your inner monologue with positive affirmations. You're strong, you're smart, and you're amazing. You've earned your place, NYU Class of 2027, and we can't wait to see what amazing work you do while you're here!
9. Take Advantage of All Your Opportunities
Though you haven't embarked on your NYU journey yet, know that the next four years will fly by. That being said, make sure you take advantage of all the incredible opportunities NYU offers! These resources will only add to your time as a Violet. Whether it's in your academic career, housing experiences, or extracurricular clubs and organizations, you have access to top-notch opportunities, so make the most of them.
10. Enjoy Your Time as a Violet
This may seem self-explanatory, but this is my way of telling you to enjoy the glory days before you leave them. All jokes aside, as soon as you step on campus as an NYU first year, you become part of the family. Enjoy every minute and soak up every second. We're so excited to welcome you, and we hope you're just as excited to join us.